Welcome to our community space! Hillingdon Women's Centre prides itself on being active in the local community and we have developed this community hub to keep you up to date with news, events and workshops that are happening. Throughout the course of the year, Hillingdon Women's Centre regularly hosts lots of different activities for women to enjoy and engage in. We strive to improve the mental health and well-being amongst women in the community, as well as reduce isolation and loneliness. This hub aims to build and strengthen local connections with other women and offer a space for them to learn new skills, share their stories and improve their self esteem.
Simply put, self-care is about taking time to deliberately attend to your physical, emotional and mental health, practising activities that make a positive difference to your wellbeing. For women especially, prioritising ourselves can feel indulgent or like too much work and for survivors, treating yourself with kindness can be a real challenge.
But self-care can be as small and simple as taking a bath to relax. It doesn't have to involve a huge time commitment and it doesn't have to be hard. It's about making an effort to put yourself first, even just for a while.
Here at Hillingdon Women's Centre we have compiled a list of ten self-care activities that can be completed in ten minutes or less: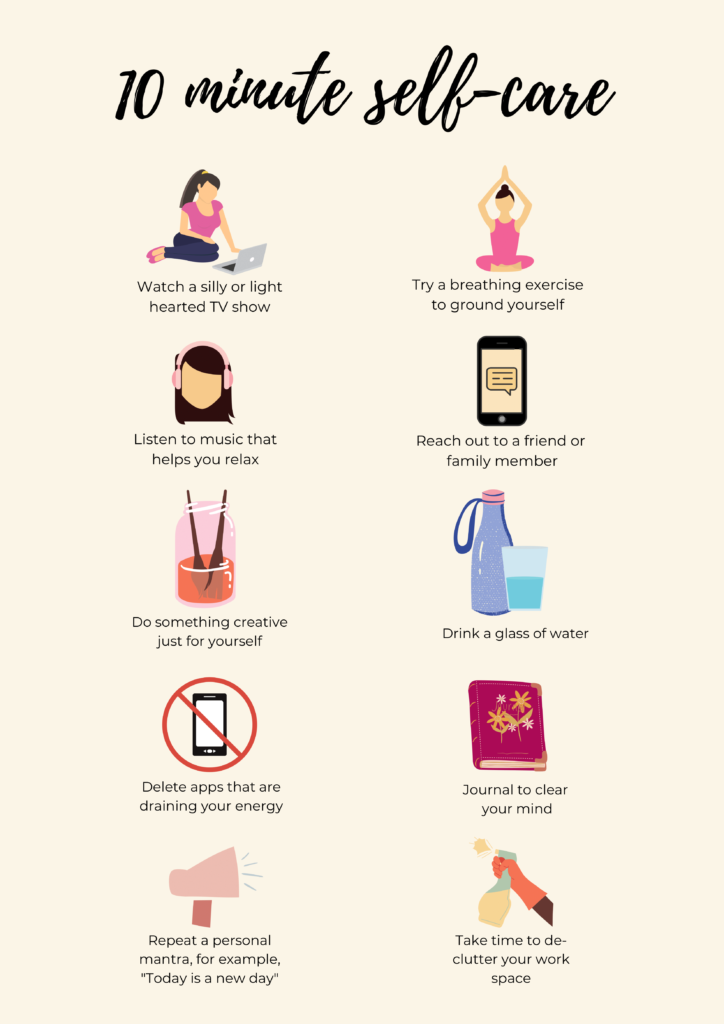 The purpose of this list is to inspire you to build your own personal routine. Self-care looks different for everyone. There is no exact way to practise it – it's about making intentional time to care for yourself in any way you can.
Hillingdon Women's Centre Auction raises over £300!
From Monday 7 until Friday 18 December 2020, Hillingdon Women's Centre hosted a '12 days of Christmas' online auction featuring items donated by businesses in the community. We raised £313 for the Centre!
We want to extend a huge thank you to the incredible organisations in Hillingdon who so kindly donated items to our Christmas auction. Thank you to:
Brunel Commercial Hotel & Spa

Sue Madden Massage & Reflexology

A big thank you also goes out to everyone who submitted a bid in the auction – and congratulations to the winners! The continued support of our community means so much to the Centre and we really appreciate every business and individual who contributed to this auction.
We hope everyone enjoys this holiday season, and best wishes to all for 2021!
Fortnightly virtual Yoga classes for mums and babies (under 4s)
Every Wednesday, 11am -12pm
Join Izzy from On The Clouds Kids who runs fortnightly Yoga classes for mums and their under 4s who live in the London Borough of Hillingdon and surrounding areas. Due to current Covid-19 rules, these classes are taking place virtually on Zoom but we hope to run these classes at Hillingdon Women's Centre when the rules are relaxed. 
Izzy has been teaching Yoga to preschoolers for the last 4 years and ensures her classes are fun, non-competitive and inclusive spaces. Izzy has designed these sessions to last for 40 minutes, allowing an optional 20 minutes for mums to chat about the class, what went well and what they would like to see in the class next time. 
 These Yoga classes are a perfect opportunity for mums in the London Borough of Hillingdon to come together and share an activity with their little ones and other local mums. 
The Resilience of Women – Poetry in the Community
To mark the International Day for the Elimination of Violence of Women (25th November 2020) we asked our network of women and girls to submit their poetry about the women's resilience. The response was fantastic and we want to thank every single person who shared their powerful and moving poetry with us!
We loved uniting the women and girls of Hillingdon to mark this important day and are so proud to showcase this on this page! We stand in solidarity with all those who identify as a woman who have experienced any form of gender-based violence.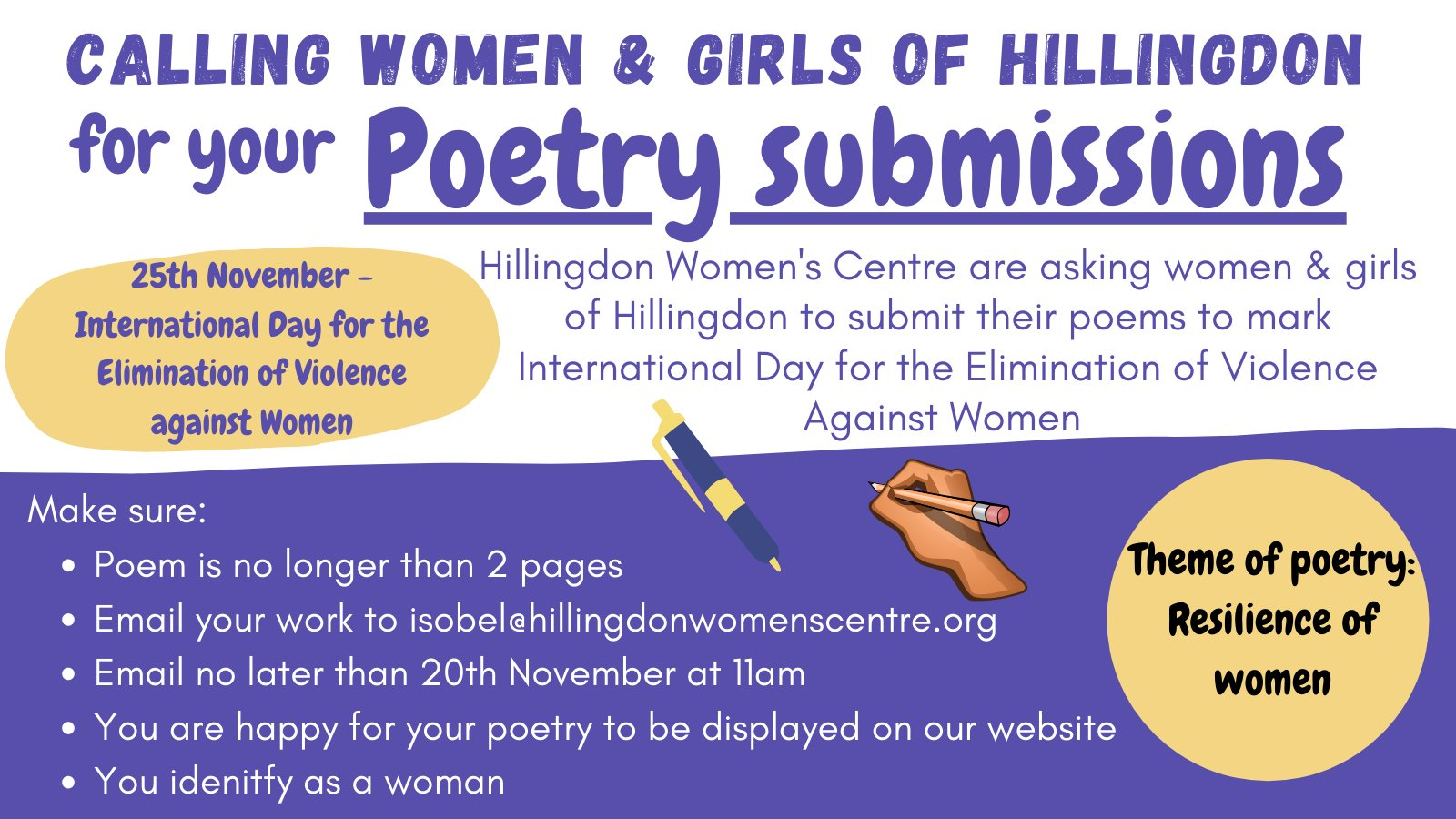 I KNOW I CAN
by Tessa
I think I can, I think I can, I think I can change my life.
I know I can, I know I can, achieve a better life.
 A life with peace and tranquillity,
A life without hostility.
A life without anxiety.
A life with joviality.
 I think I can, I think I can, I think I can walk away.
I know I can, I know I can enjoy another day.
 A day with hope and positivity.
A day that starts with clarity.
A day of fun and frivolity.
A day of love and sincerity.
 I think I can, I know I can.
A Poem
by K Mcgarr
Hey I'm that girl that you wanted to break,can you see me now im finally awake.
I am strong and you are weak
I have a voice now hear me speak.
I'm not all those things that you called me
I'm a survivor, can you see!
I am free, I am alive you cannot hurt me, no more, you tried.
I'm a lion hear me me roar, the abuse is over, let me show you the door!
Nobody Owns Her
by Rachel Fernandes
Nobody owns her
She's just a women but a whole lot of explosion
She believed in her heart and still has a whole lot of sparkle
Flames of fire burning in her eyes
Pay no heed to the critics but she'd hurdle
Got her feet grounded beneath the surface
 Standing a little taller
Chin a bit higher
She got the power, Cause nobody owns her
 There's more to her then just what they know
Her comeback cannot be tamed but she'd hustle
And when she quit,she still rise higher
Unmasking herself, fixing her crown
 Speaking a bit louder
Soul a bit stronger
Heart a little prouder, Cause nobody owns her
 She's just a women but she's unstoppable
She needs no one to believe in her, Cause no one can stop her
Nobody owns her.
The Battlefield
by Chloë Sibley
A field of pulled roots 
whimpering against the wind, watching their seeds torn away. Fruitful carnations now limply dull enriching water refusing to stay. 
The soil besieges the roots, using green claws to lock them in and push the spirits down. But the ground bleeds tears for every strength that is found. 
A river of cries runs its course across the bruised field, 
rejuvenating the roots below. As they rise against the dirt new seeds begin to sow. 
A field of freed roots 
dancing in the breeze, 
watching their seeds thrive. The soil stays, trapped under fruitful carnations coming alive.
Whilst we are unable to showcase every submission at this time, we will be building a booklet with all the submissions very soon for you to download and enjoy!