Poetry in the Community – The Resilience of Women
To mark the International Day for the Elimination of Violence of Women (25th November 2020) we asked our network of women and girls to submit their poetry about the women's resilience. The response was fantastic and we want to thank every single person who shared their powerful and moving poetry with us!
We loved uniting the women and girls of Hillingdon to mark this important day and are so proud to showcase this on this page! We stand in solidarity with all those who identify as a woman who have experienced any form of gender-based violence.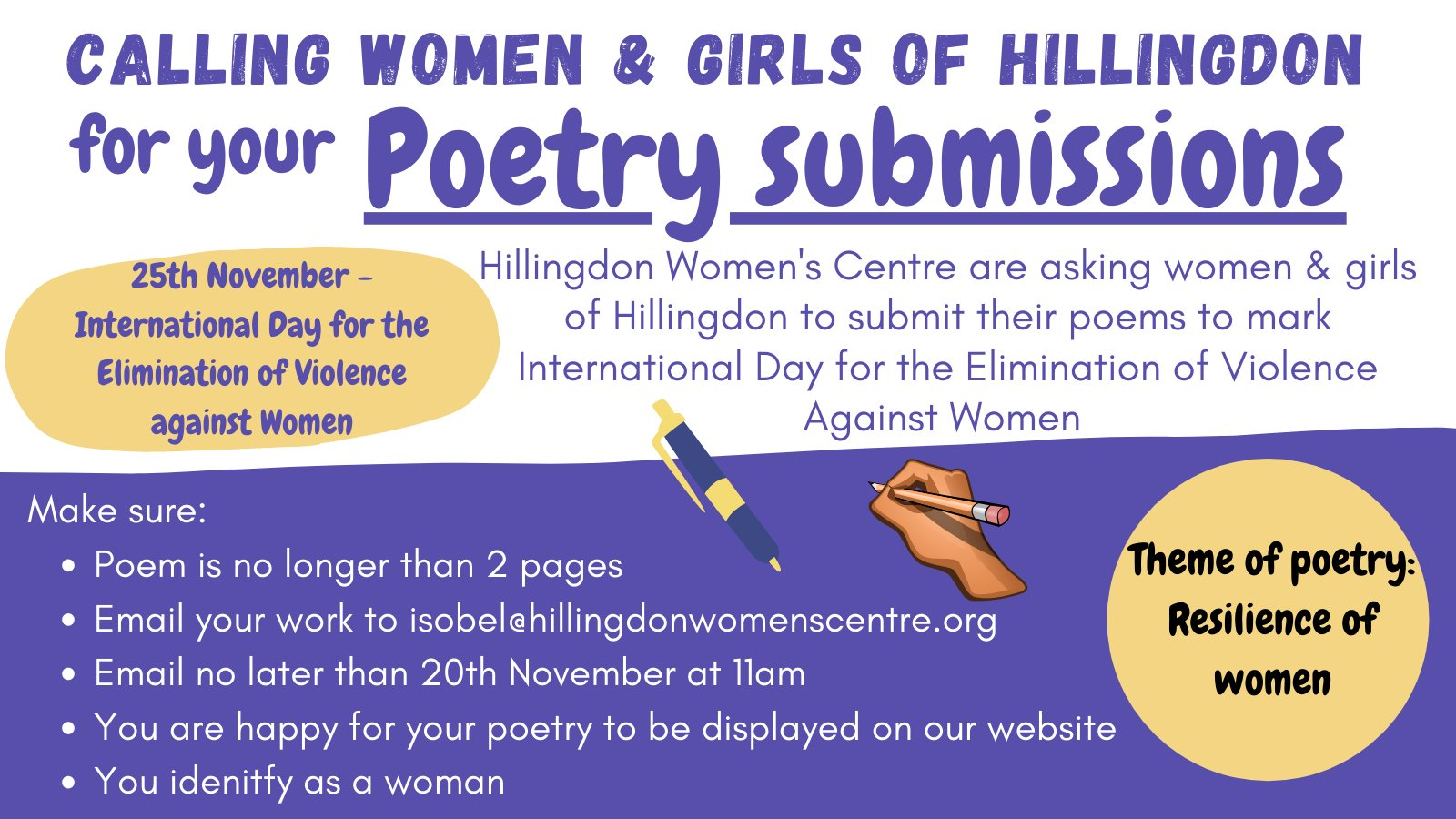 I KNOW I CAN
by Tessa
I think I can, I think I can, I think I can change my life.
I know I can, I know I can, achieve a better life.
 A life with peace and tranquillity,
A life without hostility.
A life without anxiety.
A life with joviality.
 I think I can, I think I can, I think I can walk away.
I know I can, I know I can enjoy another day.
 A day with hope and positivity.
A day that starts with clarity.
A day of fun and frivolity.
A day of love and sincerity.
 I think I can, I know I can.
A Poem
by K Mcgarr
Hey I'm that girl that you wanted to break,can you see me now im finally awake.
I am strong and you are weak
I have a voice now hear me speak.
I'm not all those things that you called me
I'm a survivor, can you see!
I am free, I am alive you cannot hurt me, no more, you tried.
I'm a lion hear me me roar, the abuse is over, let me show you the door!
Nobody Owns Her
by Rachel Fernandes
Nobody owns her
She's just a women but a whole lot of explosion
She believed in her heart and still has a whole lot of sparkle
Flames of fire burning in her eyes
Pay no heed to the critics but she'd hurdle
Got her feet grounded beneath the surface
 Standing a little taller
Chin a bit higher
She got the power, Cause nobody owns her
 There's more to her then just what they know
Her comeback cannot be tamed but she'd hustle
And when she quit,she still rise higher
Unmasking herself, fixing her crown
 Speaking a bit louder
Soul a bit stronger
Heart a little prouder, Cause nobody owns her
 She's just a women but she's unstoppable
She needs no one to believe in her, Cause no one can stop her
Nobody owns her.
The Battlefield
by Chloë Sibley
A field of pulled roots 
whimpering against the wind, watching their seeds torn away. Fruitful carnations now limply dull enriching water refusing to stay. 
The soil besieges the roots, using green claws to lock them in and push the spirits down. But the ground bleeds tears for every strength that is found. 
A river of cries runs its course across the bruised field, 
rejuvenating the roots below. As they rise against the dirt new seeds begin to sow. 
A field of freed roots 
dancing in the breeze, 
watching their seeds thrive. The soil stays, trapped under fruitful carnations coming alive.